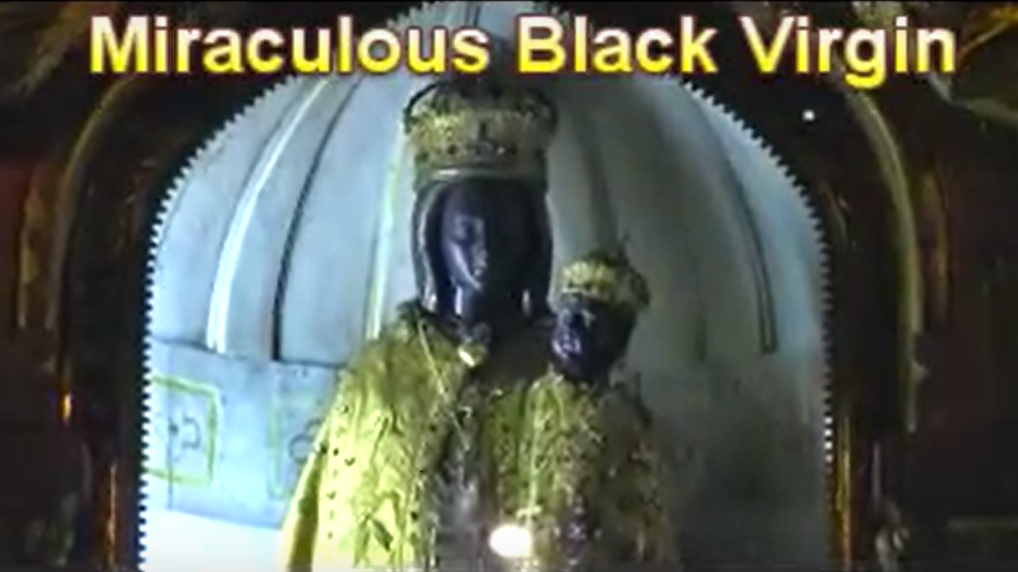 Our Lady of Myans, Savoy, France (1249)
The Abbot Orsini wrote: "It is believed that this image, in the year 1249, prevented the thunder, which had already consumed the town of Saint Andre with sixteen villages, from going farther, and was the cause of its stopping at Myans."
Our Lady of Myans in Savoy, is located on a little hill between Modane and Chambery near the Mont Cenis tunnel. It can be easily recognized, as there is a huge statue of the Blessed Virgin standing atop the shrine's belfry. The shrine has been a pilgrimage center since at least the thirteenth century, and its small 'Black Virgin' was an object of the devotion of Saint Francis de Sales.
The foundation of the shrine is something no longer remembered, but the church became famous for a miracle that occurred there in 1248. On the evening of November 24th of that year a tremendous earthquake shook the region causing Mont Granier, the tallest mountain of the Chartreuse Massif, to disintegrate into huge boulders which came crashing down into the valley. Some of these boulders were the size of a house, and 16 villages were crushed and 5,000 lives lost. The church of Myans, however, was spared, though gigantic boulders were stopped abruptly at the very door of the church. Some of these boulders can still be seen around the church grounds.
A marvelous answer to prayer occurred in 1534 in favor of Jean Grandis of Savoy, who was on a vessel bound from Genoa to Leghorn. When the ship was threatened during a tempest and seemed likely to sink, Jean Grandis called upon Our Lady of Myans, Queen of Savoy. Battered by the waves, the ship foundered and sank. Jean Grandis was the only survivor. As a gesture of thanksgiving, he traveled barefoot to the shrine and there placed his ex-voto. It is said to be one of the oldest to survive.
Another miracle attributed to Our Lady of Myans was in favor of the brother of Saint Francis de Sales, Count Louis de Sales, who in 1603 was traveling to the Chateau of Cusy to marry Claudine Philiberte de Pingon. Since there was no bridge in sight, the Count attempted to cross the River Cheran at a place that he thought was shallow and sage. However, the Count was swept away by flood water. Invoking the name of Our Lady of Myans and promising to make a pilgrimage, he was suddenly thrust onto an obstruction that saved his life. The wedding ceremony was conducted on April 2. The next day Saint Francis de Sales offered a Mass of thanksgiving in the little crypt chapel before the miraculous image of Our Lady of Myans.
The church was half destroyed during the French Revolution, but the statue was saved and later enshrined again in the restored building, where it was crowned in 1905.
The sanctuary is particularly resorted to by pilgrimages of men, and the image was taken to Rome by a Savoyard pilgrimage for the definition of the dogma of the Assumption in the year 1950.