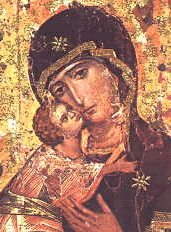 Our Lady of Bethlehem
"Bethlehem, the city of David, is located about 5 miles south of the city of Jerusalem. According to tradition, Bethlehem is the place where David was born, and also where he was anointed king by the prophet Samuel."
"The place which the supreme King of kings and the Lord of lords had chosen for entertaining his eternal and incarnate Son in this world was a most poor and insignificant hut or cave, to which most holy Mary and Joseph betook themselves after they had been denied all hospitality and the most ordinary kindness by their fellow-men. This place was held in such contempt that though the town of Bethlehem was full of strangers in want of night-shelter, none would demean or degrade himself so far as to make use of it for a lodging; for there was none who deemed it suitable or desirable for such a purpose, except the Teachers of humility and poverty, Christ our Savior and his purest Mother. On this account the wisdom of the eternal Father had reserved it for Them, consecrating it in all its bareness, loneliness and poverty as the first temple of light and as the house of the true Sun of justice, which was to arise for the upright of heart from the resplendent Aurora Mary, turning the night of sin into the daylight of grace.
Most Holy Mary and saint Joseph entered the lodging thus provided for them and by the effulgence of the ten thousand angels of their guard they could easily ascertain its poverty ad loneliness, which they esteemed as favors and welcomed with tears of consolation and joy.
When later the Magi approached, the heavenly mother awaited the pious and devout kings, standing with the Child in her arms. Amid the humble and poor surroundings of the cave, in incomparable modesty and beauty, she exhibited at the same time a majesty more than human, the light of heaven shining in her countenance. Still more visible was this light in the Child, shedding through the cavern effulgent splendor, which made it like a heaven.
The three kings of the East entered and at the first sight of the Son and Mother they were for a considerable space of time overwhelmed with wonder. They prostrated themselves upon the earth, and in this position they worshiped and adored the Infant, acknowledging Him as the true God and man, and as the Savior of the human race. By the divine power, which the sight of Him and his presence exerted in their souls, they were filled with new enlightenment. They perceived the multitude of angelic spirits, who as servants and ministers of the King of kings and Lord of lords attended upon Him in reverential fear.
Most Holy Mary, with saint Joseph and the sacred Child, took leave of the cave although with tenderest regret. When the Child and his mother took leave of the cave, God appointed an angel as its keeper and watcher, as He had done with the garden of Paradise. This guard had remained to this day, sword in hand at the opening of the cave; and never since then has an animal entered there.
from City of God by the Venerable Mary of Agreda