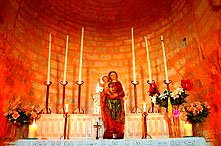 Our Lady of Life
(Notre Dame de Vie)
The town of Mougins is really an ancient village located in the south of France. Only a short drive from Cannes, it is completely surrounded by dense forests, and there are a variety of tall pines and other trees growing amidst the town's buildings. Like so many other places in Europe, the village was once also surrounded by a stone wall set with strong towers, though most of those walls have long since fallen down. Many of the charming older residences, however, are still in use opposite to newer dwellings.
The name of the first chapel was changed from Saint Mary to Notre Dame de Vie, Our Lady of Life, when it was discovered that one could find a heavenly respite there. Notre Dame de Vie soon became famous throughout the area as a special sanctuary of grace, for if still-born babies were brought there, they would be miraculously brought back to life long enough to be baptized during the Mass.
"At the present day, the chapel has fallen to ruin, and a stone cross broken in half rises alone amid the ruins; but underneath these ruins there are subterraneous vaults, and a stone altar yet tells where they still come to lay those little children whom death has smitten on the threshold of life, and who have been unable to receive the sacred sign which would have made them like unto the angels."
"No sooner are they laid upon this stone, says the mountaineer who serves as a guide to the traveler in this dark crypt, than their eyes open again, a slight breathing escapes from their little lips closed by death, the water of baptism flows upon their foreheads, and then they fall asleep again, to ascend to heaven."
"By digging a little into the ground, the remains of these poor little flowers of humanity, which withered at the icy breath of death in the first hour of their morning, are found round about the altar dedicated to the Blessed Virgin, who raises up the little children to life, that they may go to Jesus Christ; that ignorant, but exalted tenderness of feeling which came to beg the miracle of Mary, interred them beneath her wing, that she might not forget them!"
"Let incredulity be indignant at this superstition of the heart; tender and pious souls will find in it only a motive for gentle commiseration. No doubt, more than one mother has been deceived in thinking that she saw the cold lips of her child become reanimated with her kisses to receive the sacred water; but whoever should dare to advance that Mary cannot perform miracles as great when she pleases, would be, to say the truth, a bold mortal." (*from Life of the Blessed Virgin Mary, with the History of Devotion to Her, by Mathieu Orsini, translated from the French.)
The chapel is home to an ancient statue in polychrome wood of the Virgin and Child. It is piously believed that through this image the Blessed Virgin has often restored to life children who had died without baptism.
In 1730 the practice was prohibited for unknown reasons. There is a tomb in an adjacent enclosure that contains the remains of the tiny bodies of those who were baptized and have passed to paradise.