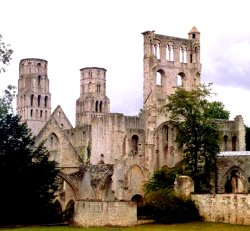 Dedication of the Church of Jumieges, Normandy, France 1067
The Benedictine abbey of Jumieges in Normandy has an ancient and remarkable history. Founded in the year 654 by Saint Philibert, it was once one of the magnificent Benedictine monasteries in France, and the home of some 700 monks with over twice that number of lay brothers. Sadly, it is now nothing more than a tourist attraction, and the vestiges of the surviving structures, though vacant, scarred, and exposed to the elements, are celebrated as a magnificent example of Romanesque art.
All that remains standing today are the church of Notre Dame with its impressive twin towers soaring to a height of 150 feet, the western façade, and sections of what were once the cloisters and library. The rest is but a pile of rubble, though it is proudly proclaimed the largest medieval ruin in France. Victor Hugo notably christened it "the most beautiful ruin in France," but one is left to wonder how it once appeared when the Catholic faith was still vibrant and alive in France.
Located a little west of Rouen along a bend in the Lower Seine, it was vulnerable to the attacks of the Vikings in the ninth and tenth centuries. During one invasion it was set on fire and pillaged of its wealth. It was soon lovingly rebuilt, however, by the Duke of Normandy, and the Church of Jumieges was consecrated by Maurice, the Archbishop of Rouen, in the year 1067. William the Conqueror attended the dedication of the Church of Jumieges and the subsequent celebrations.
Larger and more beautiful than ever before, the abbey once again became wealthy and influential. A center of learning, it was famed for its Scriptorium where monks worked diligently coping and illustrating manuscripts by hand.
The errors of Martin Luther came to France, as they did to all of Christendom, followed by the usual looting of churches. The destruction was widespread and the abbey of Jumieges was not spared. When the French Revolution came along the monastery was finished, and only the imposing ruins of what had once been a thriving community was left in its wake. In 1793 the whole was sold at auction and mined as a stone quarry. The chancel, with its marble altar, and the lantern tower were intentionally blown up, and the rest was subject to the deprivations of vandals.
What remained was rescued in the year 1852 by the Lepel-Cointet family. A lodge was built, and the rest landscaped and made into a park before being sold to the State in the year 1946. The church is not open, but one can walk about the ruins and imagine the glory that once was.