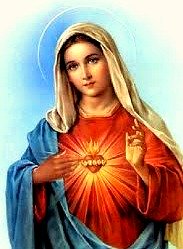 Our Lady of Molanus, Jerusalem (1099)
In the year 1099, the Christian armies arrived at Jerusalem, overjoyed that they had survived to reach their objective. Their joy turned nearly to despair, however, as they ran short of food and suffered greatly with a plague during the siege of the city.
The leaders of the crusade concluded that they could not win without courting the Divine Assistance. It was agreed by all that they should march together barefoot around the city while singing litanies to the Blessed Virgin Mary. This they did, as the Jews had done centuries before at Jericho, while praying, fasting, and giving alms. Eight days later Godfrey of Bouillon was the first to breach the walls and set foot in Jerusalem, which was then swiftly taken.
The Turks were finally defeated after what had been a long and difficult siege, and the First Crusade ended with a Christian victory. Now that the city was in Christian hands, the Crusaders desired that they should have a king for the new Kingdom of Jerusalem. The nobleman Raymond of Saint Gilles was offered the crown, but he refused, as it did not seem proper to him to be named king in that holy place. Next, Robert Courte-Heuse also refused. Finally, Godfrey of Bouillon, who had so distinguished himself in the taking of Jerusalem, was asked to accept the crown.
Godfrey of Bouillon was a good man, the son of Blessed Ida of Bouillon, whose father was the Duke Godfrey of Lorraine, himself a descendent of Blessed Charles the Great. Although Godfrey agreed to be made king, still, as they were about to crown him King of Jerusalem, Godfrey pushed aside the crown, saying, "I cannot wear a diadem in the place where my Lord wore a crown of thorns." Instead, as he had prayed at Our Lady at Boulogne-sur-mer before leaving on the Crusade, he credited the Blessed Virgin Mary with the victory, and symbolically gave the crown to Our Lady of Molanus.
After the victory, clad in white garments, the crusaders expressed in solemn procession, hymns and prayers, their gratitude to the Mother of God for giving them this singular victory over the enemies of the Church. The annual celebration in remembrance of the victory occurred each July 15th with a Mass offered to Our Lady of Molanus. Formerly the feast of this event was celebrated with a double office and octave.