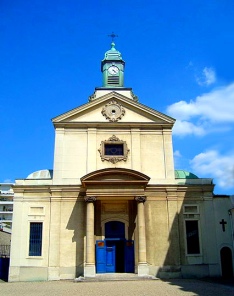 Our Lady of Grace, at Picpus, Fauborg Saint Antoine,
of Paris (1629)
This image, which is carved of wood in the shape of a small ship with two angels at the end, was made in the year 1629 from a splinter taken from the famous image of Our Lady of Boulogne-sur-Mer.
Among the famous pilgrimages of Paris, that of the pilgrimage to the chapel of Picpus, in France, is said to rank fifth. The shrine contains the above mentioned statue, given in the sixteenth century to this monastery by the famous Capuchin Joyeuse, known as Pere Ange, and later transferred to Saint-Antione of Paris.
Devotion to Mary retains its pristine fervor here, and many gifts and graces are bestowed on devotees by the Mother of Grace, Our Lady of Grace, Paris. Pilgrimages are as ancient as society itself, and in fact, all nations have had consecrated places, to which they have made it a duty to resort at certain periods of commemoration, to become more deeply penetrated with a sense of the benefits received from God, by visiting those spots which they believed to be sanctified by his presence or his miracles.
God is everywhere, it is true. God hears in every place the prayer of faithful souls, and that in all places such prayer is granted; but what should hinder God from attaching certain favors to those ancient sanctuaries, where he has been pleased oftentimes to manifest his power by prodigies?
Pilgrimages, which date from the deluge, which have been received by all nations, and which among Catholics strengthen religious feelings by opening the soul to a crowd of generous and sanctifying emotions, are therefore a thing good, laudable, useful, and agreeable to the Divinity. We see those pious practices held in honor from the early times of the Church; Mary, the holy women, and the apostles were the first pilgrims, and the faithful of Europe and Asia walked readily in their footsteps. They come in crowds to these places, and edify us by the splendor of their virtues. Their language is different, but their Catholic faith is the same.