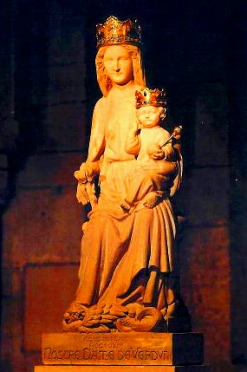 Our Lady of Verdun, Lorraine (5thCentury)
The present Cathedral of Notre-Dame de Verdun is both a Catholic cathedral and a national monument of France. It has a long and ancient history.
It was in about the year 330 when Saint Sanctinus, a disciple of Saint Denis, converted the city of Verdun to the True Faith, and later made it an Episcopal city when he became its first bishop. He built a church there in honor of Saints Peter and Paul.
In the year 457 Saint Pulchrone, whose name is often mistakenly spelled Polichraine, built the first church located at the site where Our Lady of Verdun is presently located. The fifth Bishop of Verdun, Saint Pulchrone, built the church inside the walls of the city on top of ancient Roman ruins. This church was actually named to honor Mary as Mother of God, a title that had recently been confirmed at the councils of Ephesus and Chalcedon. It was at the council of Ephesus in 431 that Mary was formally affirmed to be Theotokos, "God-bearer," or "the one who gives birth to God." At Chalcedon, the nature of Christ was formally defined, teaching that He was God and man, "one and the same Christ, Son, Lord, Only-begotten, known in two natures, without confusion, without change, without division, without separation." With this definition Mary was shown to be the Mother of God, and not just of Our Lord in his human nature. The church and Our Lady of Verdun was celebrated for numerous miracles.
In the year 990, Bishop Heimon built a new cathedral to Our Lady of Verdun, and in the 12th century a choir and two portals were added. In 997, the Emperor Otto III conferred on this Bishop Heimon, or Haymon, the title of count, making him and his successors Episcopal Counts.
The cathedral was consecrated by Pope Eugene III in 1147. In the 14th century the flat wooden ceiling was replaced with a vaulted one, and side-chapels were added to the nave. Another side chapel dedicated to the Blessed Virgin in the Assumption was built in the 16th century. In 1755 the roof and towers were hit by lightning, which set them both on fire, which did significant damage to the church. The church was repaired and rebuilt in the Neo-Classical style in 1760.
The cathedral was once again severely damaged in World War I, as it was hit by artillery rounds in the Battle of Verdun which destroyed the towers. The crypt was rediscovered during the renovation that went on until the year 1936, and a re-inauguration took place in 1935. The millennial celebration of the cathedral took place in 1990.
The Arbennes family were the counts of Verdun, and Godfrey of Bouillon was a member of that family. Godfrey gave up his right to the count-ship before leaving on the First Crusade.