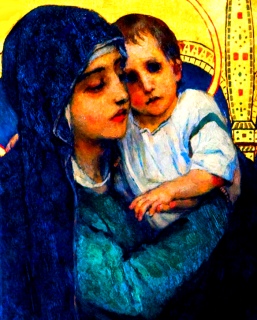 Our Lady of Castelbruedo, Catalonia, Spain
The Abbot Orsini wrote of this feast day: "It is related that every year, on the day of the Annunciation, three lights were seen of a blue color, which shone through the glass windows of this church at Olion in Catalonia, lighted the lamps and wax candles, when out be the same way, and immediately disappeared."
There is a legend that at Olion, in Catalonia, Spain, Our Lady was once venerated under the title of Our Lady of Castelbruedo, or Nuestra Senora de Castelbruedo. The lamps and the wax candles of the church were likewise lighted by invisible hands, and all disappeared three days after the feast, on the twenty-eighth of March. Despite all subsequent investigations, the lights and their extinguishing could not be accounted for; but it was universally taken for granted that all this was all to honor Our Lady and her great feast.
The church at Olion referred to by the good abbot must be one that was once located in Oliana, Spain, and not Olion, as it appears there is no longer any such city in Spain. Oliana is in Catalonia, and is a very small municipality of a few hundred inhabitants in the Sergre valley just below the Oliana reservoir. There is no Catholic church there anymore, however, and the only church anywhere nearby is the church of Sant Climent near Coll de Nargo, which appears to be about 6 miles away. It dates from the 11th century, but looks as if it is little more than an abandoned structure in our day. The region is popular now with those involved with the sport of rock-climbing.
I can find no further information about this site. If anyone has any information on this Marian title, please forward it to me for inclusion on this website and for the edification of all Catholics.