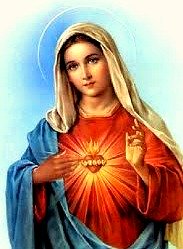 Our Lady, Help of Christians, Europe (16th Century)
The power of the Turks in the second half of the sixteenth century had become so great that the peace of all Europe was threatened. Saint Pope Pius V, reigning Pontiff at the time, was famous for his Christian fortitude as well as his holy life. He caused the combined forces of Christendom to turn against the enemy in what was then called the Holy League, and then asked all of Christendom to pray the Rosary for their success. The Christians were inferior in numbers to the vast army and navy of the Turks, but the former bravely advanced under Don Juan of Austria while placing their trust in the help of the Blessed Virgin and shouting "Long Live Mary!"
The enemy was routed at Lepanto after five hours of struggle while the Holy Father knelt praying before a picture of Our Blessed Lady. Suddenly the Blessed Virgin Mary appeared in a vision and told the pope that in that very hour the enemy had been defeated. The Ottoman Turks had not been defeated in a major naval engagement during the memory of any living man, and the loss is thought to have been as decisive to world history as was the Roman Battle of Actium fought in 31 BC. Saint Pope Pius V then ordained that the invocation "Help of Christians" be added to the Litany of Loreto.
Some years later the French Emperor Napoleon Bonaparte took the Papal States and had Pope Pius VII confined to prison, to the great sorrow of the entire Church. The pope remained captive for five years beginning in 1808 when Our Lady once more came to the aid of her faithful children; the Emperor was forced to abdicate and was himself exiled to the island of Elba. The Holy Father returned to Rome in a triumphal procession in which many images of the Blessed Virgin were crowned along the way to the Vatican.
Pope Pius VII in thanksgiving for his deliverance, crowned with his own hands the picture of Our Lady venerated at Savona, where he was first imprisoned; and ordained that the twenty-fourth of May should be kept as a special feast in Mary's honor, under the title of "Help of Christians."
One of our Blessed Mother's most appropriate titles is "Mary, Help of Christians," for always when her Divine Son's Church was waging its fiercest battles to save Christianity, Mary was there as an invincible warrior fighting against the enemies and lending her protecting hand in a very special way.
It was in commemoration of several great historical events, in which Christianity triumphed through Mary's intercession, that Pope Pius VII , on September 15, 1815, instituted the feast of Our Lady, Help of Christians, to be celebrated on May 24th.