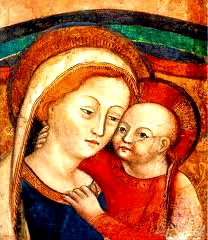 Our Lady of Genesta, Genoa, Italy
The Abbot Orsini wrote: "A poor woman, named Petruccia, undertook to build this church, which appeared to everyone impossible; she did not fail to lay the first stone of it, and assured everyone that she should not die before the Blessed Virgin and St. Augustine finished this work. In fact, this church was found miraculously completed a short time afterwards."
There is no shrine of Our Lady of Genesta, or a city in Italy by the name of Genesta, near Genoa or anywhere else. Initially, it seemed likely that it might have been a town later absorbed into Genoa, or that the town simply no longer exists. There are several ancient churches in France dedicated to Saint Genest, but these are not near Genoa. I regret that I can find no information on this date for the Marian Calendar.
The story of the woman named Petruccia, however, is an entirely different matter. Her story, and the story of the church, are actually associated with Our Lady of Genazzano. Petruccia is Petruccia de Nocera, and she was a Third Order Augustinian intent on restoring a church under the care of the hermits of Saint Augustine.
Petruccia had been left with a good deal of money after the death of her husband in the year 1436, and decided to use it to restore the church where she spent much of her time in prayer. She did not have enough money to complete the work, but she trusted that others would come forward to finish what was left when her money ran out.
A grand new church was begun, but Petruccia ran out of funds after only the first part of the construction had begun. People began to insult her and make fun of her for wasting her money, and even friends turned on her to mock her. She would patiently answer them:
"My dear children, do not put too much importance on this apparent misfortune. I assure you that before my death the Blessed Virgin and our holy father Augustine will finish the church begun by me."
Petruccia was not wrong. On the 25th of April, 1467, in the middle of the afternoon, a crowd began to gather in front of the unfinished church of Our Mother of Good Counsel when the chords of a beautiful melody could be heard, a melody that seemed to come from a luminous cloud that came down upon the church. The cloud stopped against one wall of the church when the bells of the church began to ring by themselves, as well as all of the bells located anywhere around the town.
When the little cloud dissipated, a beautiful image was revealed to the faithful, a painting of Our Lady tenderly holding her Divine Son in her arms. The painting was hovering in the air, and although it did not move, it was not attached to the wall. It remains that way to this day. Miracles and wonders began to occur before the image of the Virgin Mary.
The fame of the miraculous cures spread far and wide, attracting crowds of pilgrims. The visitors gladly gave alms for the completion of the church, validating the confidence Petruccia had in the Blessed Virgin.
Sometime later the marvel was explained when two foreigners entered the city wearing strange clothing and speaking a foreign tongue. They told the story of how they had followed the cloud from Albania, walking upon the waters of the sea, when the image had departed their homeland after the death of Iskander before the advance of the invading Turks. (See Our Lady of Genazzano)