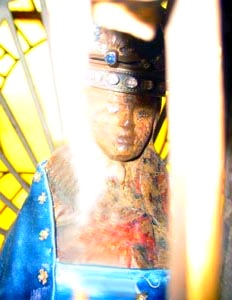 Our Lady of the Pond, Dijon, France (1531)
The Abbot Orsini wrote: "This image of baked earth was discovered in the year 1531, on occasion of an ox stopping always in this place, and though he grazed there constantly, the grass was always found still more abundant."
Our Lady of the Pond, or literally Notre-Dame de l'etang in French, is a chapel located in the valley of the Ouche at Velars, situated about ten kilometers from Dijon in Burgundy. It is still an important place of pilgrimage. The chapel dedicated to the Blessed Virgin Mary dates from the 12th century.
On July 2nd in the year 1435 (not 1531) the buried statue of the Virgin and Child was discovered. It is made of stone, and may have possibly been hidden there during the Muslim invasion. The Benedictines of the Abbey of Saint Benigne, Dijon, were initially charged with serving the sanctuary are the ones who built the first chapel to house the miraculous statue. Our Lady of the Pond quickly became the main shrine of the region. There were many famous people who went there on pilgrimage, including Saint Francis de Sales, who composed a prayer to Our Lady of the Pond.
The monastery and chapel were sold and razed in 1791 during the anti-Catholic Terror of the French Revolution. A stone cross was later erected on the site of the monastery to keep alive the memory. During that time the statue of Our Lady of the Pond was entrusted to the clergy of neighboring parishes.
The shrine of the miraculous statue was then moved permanently to the church of Velars, which was rebuilt in 1861 specifically for that purpose. The statue is located in a niche behind the altar behind a thick wrought iron gate. A large number of votive offerings almost completely cover the walls.
The chapel of Notre-Dame d'Etang has long been the destination of pilgrims, although it has been closed since May of 2002. A study revealed the presence of major structural defects in the chapel, for the stones crack and crumble. If the repair work is successful, the chapel may be reopened.
Prayer of Saint Francis de Sales:
"Holy Virgin, Mother of God, Queen of Heaven and earth, refuge of all those who trust in you, I humbly prostrate myself at the feet of your miraculous image of the pond. We choose you for our guide and our sovereign, we offer to serve you as faithfully as we can the rest of our days, and to love, honor and serve anywhere as much as we can. We just put our soul and body under your special protection.
"We give you and we put in your hands all our sorrows and miseries, all our thoughts, our affections, our words and actions, as well as the course and the end of our life, so that by your holy intercession and by your merits, all our works are made according to your will and to please your Divine Son. We beg you to honor us with a special protection during the whole course of our life and at the hour of our death. Amen."