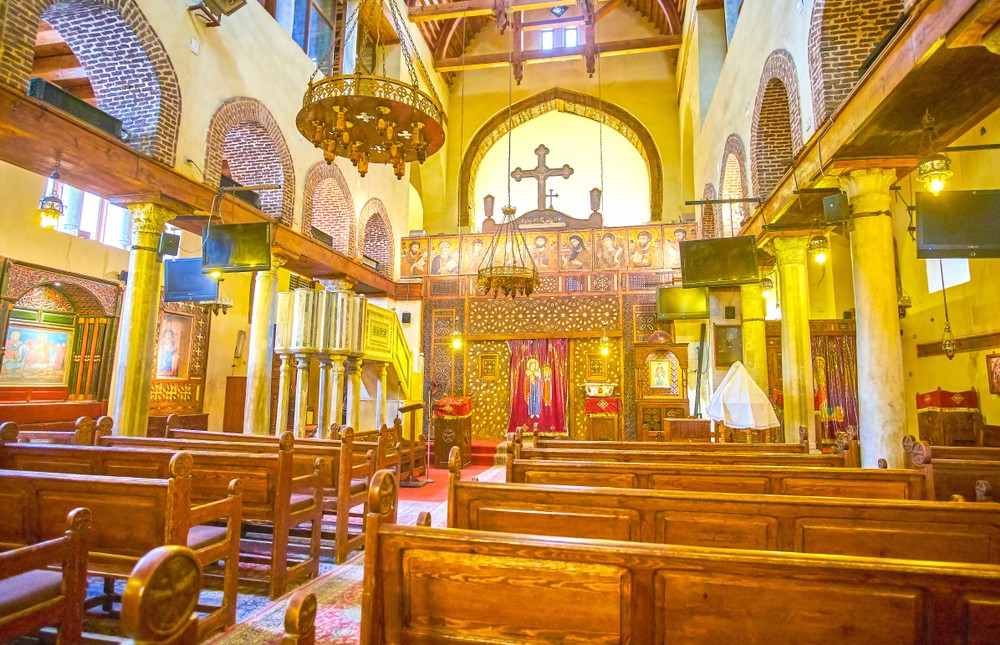 Our Lady of the Underground, Grand Cairo (12 Century)
"Our Lady of the Underground, half a league from Grand Cairo. It is held by tradition that the Blessed Virgin lived for some years in this subterranean chapel."
The Church of Saints Sergius and Bacchus, also known as Abu Serga (the Arab translation of Saints Sergius and Bacchus), is a Coptic Church in Cairo and thought to be one of the oldest in Egypt, having been begun sometime in the 4th century. Saint Sergius and Saint Bacchus were both soldiers who were martyred for the faith during the persecutions against Catholicism (there were no other Christians at this time) during the 4th century in Syria by the Emperor Maximian. The church was built on the very spot where the Holy Family, St. Joseph, the foster father of Christ, his spouse, the Blessed Virgin Mary, and the infant Jesus lived in exile in Egypt for a time after fleeing the wrath of King Herod.
The Church of Abu Serga is where many of the patriarchs of the Coptic Church were once elected. The first of them was Isaac in the year 681. A great many bishops were also consecrated in the Church. The church was burned around the year 750 during the reign of Marwan II. It was soon restored, and has been restored many times over the years sime the time of the Middle Ages.
The style of the church is a bascilican one, although it is also considered a model of early Coptic churches. There are 12 columns inside the church, each of them a shade of red to represent the treachery of Judas Iscariot. On these columns can also be seen traces of murals painted at some unknown period in history.
There are three sanctuaries with an altar with images of Our Lord, angels and the evangelists. There are many icons in the church dating from the 15th and 16th century that are still in very good condition.
One of the most interesting sights inside is the crypt where it is believed the Holy Family took their rest together. Descending several steps to reach this crypt, you'll find the shelter is about 30 feet deep and is often flooded when the water level of the Nile rises. While climbing back out of the crypt on the opposite side, a well can been seen that was blessed by the Christ Child Himself while living there.