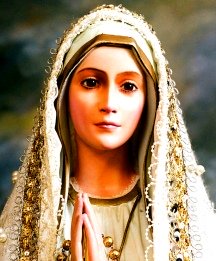 Our Lady of the Cloister, Citeaux, France (1624)
The Abbot Orsini wrote for this feast on October 10th: "Our Lady of the Cloister, at Besancon. The image of Our Lady, placed in the cloister of La Madeleine, was preserved from a fire, in the year 1624, though the niche where it stood was reduced to ashes."
The Church of the Madeleine was also the shrine of Mary, known as Our Lady of the cloister, where people came to ask for the healing of their bodily infirmities.
In 1624, all of the cloister of the Madeleine having been the prey of a fire, the flames kept the Virgin and her veil, which received no damage, although its niche was reduced to ashes.
The miracle drew a large number of pilgrims to the shrine, and inspired so much confidence in shrines placed under the patronage of Mary, that many of the faithful undertook long journeys to visit the most famous places of pilgrimage.
The Church of the Madeleine at Besancon was originally part of the Benedictine Abbey of St. Vincent. The first buildings included a chapel, a cloister and dormitories to house the religious of the Order of St. Benedict.
In time the center became a veritable institution of scholarship contributing to the historical study of the city and the region, ranking just after the Cathedral of St. Jean. It retained that reputation until the 18th century, when the community was irretrievably dissolved during the French Revolution of 1789.