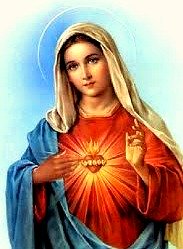 Collection of all the Feasts of Our Lady, celebrated at Louvain.
The Abbot Orsini writes that "A feast is kept in honor of the Blessed Virgin, called the Collection of all the Feasts of Our Lady."
Louvain refers to Leuven, the capital of the province of Flemish Brabant in the Flemish Region of Belgium. There was once a chapel called Notre-Dame de Leuven, or Our Lady of Louvain, which had stood near the church tower of a separate church dedicated to Saint Peter. The chapel owed its origin to an image of the Blessed Virgin Mary that was given by a group of monks from Abbey Park as a sign of brotherhood in the year 1132.
According to tradition, the wooden statue, which depicted the Blessed Virgin seated with the Divine Child in her lap, was a gift from heaven deposited on the earth by heavenly angels. The image excited a lively religious fervor upon its reception, and there are numerous miracles credited to pious devotion to the image of Our Lady of Louvain.
Over 350 years later, as the chapel of Our Lady of Louvain was built on land that was needed for the construction of the new, and larger, church of Saint Peter, it was necessary to demolish the chapel. In a letter dated March 28, 1496, Bishop John Horne of Liege, authorized the transfer of materials from the chapel of Our Lady of Louvain to the new basilica of Saint Pierre. The old chapel was demolished two years later in 1498, and the statue of the Virgin was placed on a special altar in the collegiate church of Saint Peter. Every year, on the eve of the first Sunday in September, the miraculous image of Our Lady of Louvain had been carried in procession by the canons and members of the magistrate while bells tolled and musicians accompanied the image singing the Salve Regina. Some time later the statue became known by the title of Notre-Dame-sous-la-Tour.
The original church of Saint Peter was made entirely of wood, and completed in about 986. It burned to the ground in 1176. It was rebuilt in Romanesque style with a crypt at the back in the choir. The church had two west towers, and that image is still used as the ancient seal for the city. The church was then enlarged in 1425 in the Brabantine Gothic style. The church of Saint Peter was heavily damaged in both world wars, but most importantly, the original statue of Our Lady of Louvain was completely destroyed in 1944 from allied bombing during World War II, and it is now only a replica that is on display at the church.