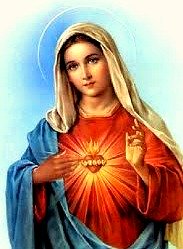 Our Lady of Smelcem, Flanders
According to tradition, one day long ago in the 10th century there were two shepherd boys out tending their flock in a field of Flanders when one of the boys noticed that some of the sheep seemed to be acting strangely.
"There must be something wrong at the end of the field over there," observed the first shepherd boy with some alarm to his unsuspecting companion.
"Why, what makes you think so?" questioned the second lad.
"The sheep topple forward," he said, watching as the furthest sheep seemed to dip and then stand erect again. "Look! Let's go see."
The boys ran together through the field until they drew closer to the sheep that were acting curiously. Slowing with suspicion as they approached the furthest sheep, the boys carefully made their way through the grazing flock searching the ground and watching for anything unexpected as they neared the place.
When they arrived at the head of the flock, the boys observed that each sheep, upon coming to a certain spot, went down with their front legs bent and their nose touching the ground. Then, gracefully and quickly, they arose and continued to graze. It appeared as if the sheep were bowing in greeting, or even genuflecting, to someone or something. It was all very odd. Turning to look in the direction the sheep faced, the boys suddenly saw a small statue of the Virgin Mary that stood peacefully in the niche of the rocks that marked the end of the pasture.
This, then, is the story of Our Lady of Smelcem. The news of what the shepherds had experienced when they had observed their sheep bending their knees before the image of the Blessed Virgin, spread throughout all of Flanders. The faith of the people, and the sudden pilgrimages, occasioned Baldwin IV, Count of Flanders and surnamed Fair Beard, to visit Our Lady of Smelcem seeking a cure for a malady from which he had suffered for seventeen years. Praying to the Mother of God for relief, Baldwin was miraculously cured of his malady, and decided to finance the building a church at the place in thanksgiving for having received the favor of the Blessed Virgin Mary.