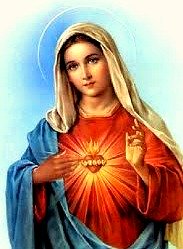 Our Lady of Cambron, France (1322)
The Abbot Orsini wrote: "Our Lady of Cambron, of the order of Citeaux, in Hainault, near Mons. It is said that this image, being struck by a wicked man, in the year 1322, bled copiously."
The abbey of Cambron was founded on the River Blanche and was a daughter house of Saint Bernard of Clairvaux. It was situated some leagues from Mons in Cambron-Casteau in Hainaut, Belgium, and took its name from the land on which it was built. Cambron, in its turn, had daughter houses in the abbeys of Fontenelle at Valenciennes and six other sites. The image of Our Lady formerly honored at Cambron was famous for a great number of miraculous cures. A chapel dedicated to Our Lady of Cambron, was built at Mons in 1550 in a part of the prince's park.
In the following centuries the magistrates of Mons had a beautiful door built for the shrine, and added other embellishments. In 1559, thieves broke into the chapel and stole everything of value to be found there. There was a small oratory was very much frequented.
After the French Revolution when the State took over all properties given to religious services, this chapel of Our Lady of Cambron was also taken. It was demolished after all the wood, iron, and lead was removed. The statue of the Blessed Virgin which decorated the altar, was then placed in the church of Saint Elizabeth at Mons. The abbey of Cambron was rebuilt in the 18th century, but was ordered vacated in 1783 by Holy Roman Emperor Joseph II. It was later sold to a wealthy Count who built a mansion on the property, and the land remained in his family's hands until it was sold in 1993 to a family who turned the holy and once revered site into the location of a public zoo known as the Pairi Daiza.
A story told about Cambron is as follows: In the early 13th century a man named William who had embraced the true faith was employed by the Count of Hainaut. Once when traveling, he stopped at the Abbey of Cambron. In one of the rooms he saw a picture of the adoration of the Magi. In a rage, he slashed the figure of the Virgin Mary with his pike. A carpenter discovered him and would have killed him on the spot, were it not for the restraining hand of one of the religious. In the confusion, the man escaped.
The Pope of Avignon, to whom the case was referred, demanded the punishment of the man. He was captured, and then released for he continued to deny the accusations.
Four years later an old man who had been a smith was inspired to avenge the insult offered to the Mother of God. He consulted the Abbot of Cambron and then asked the Count of Hainaut for authorization to combat the accused man. The results of that duel were not recorded by any of my sources.