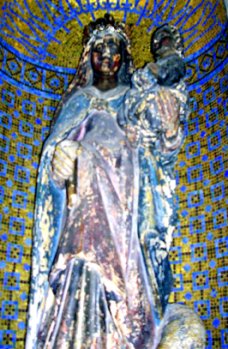 Our Lady of the Divine Shepherd, France
Our Lady of the Divine Shepherd, or Notre Dame de Brebieres, is located in the small town of Albert in the diocese of Amiens, France. Brebieres refers to brebis, which is French for sheep, and berger, which is French for shepherd.
At one time, probably sometime in the 12th century, and according to local tradition, a shepherd was grazing his sheep at Brebieres when he observed that many of the animals were staying in the same area to eat, ripping the grass out by the roots. It must have seemed very odd to the shepherd, who decided that the sheep were trying to uncover something, so he started to dig in the very spot himself. In a short time he uncovered a statue of the Blessed Virgin sculpted from a single piece of solid stone.
The statue was fairly large, nearly four feet tall, and represented the Blessed Mother holding the Divine Child in her arm. There was a sheep depicted quietly reclining at Mary's feet. As has happened so often throughout history, the finding of the statue increased the enthusiasm and affection of the local populace toward the Mother of God. A small chapel was built at the site to honor the statue and receive the pilgrims who had already begun coming to Albert to visit the statue.
Saint Colette can be credited for helping to spread of the fame of Our Lady of the Divine Shepherd at Brebieres. At age fourteen she was somewhat short and had a delicate constitution. Seeking a remedy through the favor of the Blessed Virgin, Saint Colette prayed to Our Lady of Brebieres. She not only obtained vigor and good health, she also found that several inches were miraculously added to her height.
In 1637 the sanctuary was partially burned, and the miraculous image was moved to the parish church of Albert in 1727. During the French Revolution the church was made into a pagan temple to the goddess of Reason while the image of the Mother of God was hidden until 1802 when the horrors of the Terror during this supposed time of reason subsided.
This feast is celebrated in a number of places and by certain religious communities and congregations: Capuchins, Marists and others, on widely different dates. It is a special festival of the shrine of Our Lady of Brebieres, a very old sanctuary near Albert in France, formerly much resorted to by the shepherds.
The pilgrimage here was revived after 1870, and a beautiful basilica was completed in 1887. The statue was crowned in 1901, and devastated in both world wars. The basilica has again been rebuilt.
The collect of the Mass prays that by following the Good Shepherd on earth, we may reach the pastures of eternal life with Mary in heaven.